Egremni Beach: Exploring the Pristine Beauty of Lefkada
Welcome, fellow travelers! Egremni Beach in Greece is one of Greece's best-kept secrets – an idyllic stretch of coast on Lefkada that awaits discovery. In this travel blog, we'll dive deep into its shimmering blue waters, discover hidden treasures, and provide all the necessary information to make your experience memorable.
How to Reach Egremni Beach:
Egremni Beach is an exquisite gem on Lefkada Island; getting there can be part of its charm. Multiple routes lead up to Egremni Beach; each offers something different.
Flights and Airports:
When flying internationally to Greece, chances are you'll first touch down in either Athens or Thessaloniki before taking a connecting flight to Preveza Airport on the mainland or choosing an enjoyable drive through stunning countryside scenery.
Driving to Lefkada:
For road trip enthusiasts like me, Lefkada is an excellent destination. A causeway connects it to the mainland for ease of access by car – providing stunning views across the Ionian Sea along the journey!
Public Transport:
For those who prefer public transportation, buses offer service from Athens to Lefkada. While not the fastest option, this offers visitors a taste of Greek life and scenery along the journey.
Once on Lefkada, Egremni Beach will beckon. And with good reason.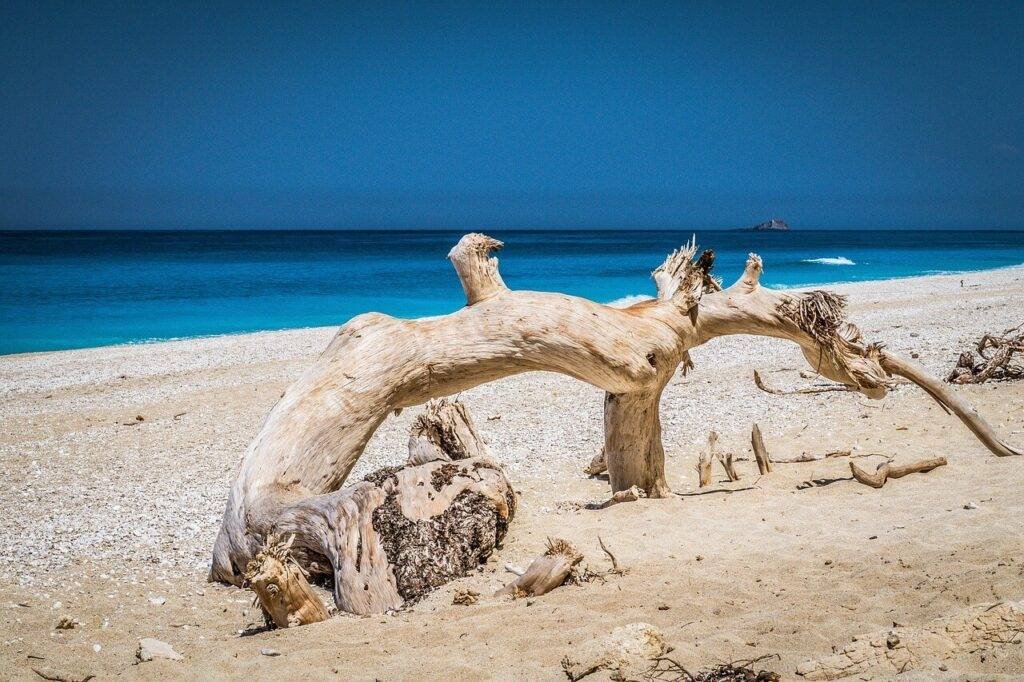 Crystal Clear Waters:
Egremni Beach boasts some of the clearest waters in Greece – and I have seen my share of amazing beaches! The transparency of the sea makes for an unparalleled swimming or snorkeling experience, inviting visitors to experience it for themselves.
Golden Sand and Amazing Cliffs:
Egremni Beach boasts soft golden sand that makes the ideal surface for building sandcastles or basking in the sun, but what truly sets this beach apart is its majestic cliffs – these impressive towers provide shade and serve as great photo backgrounds!
Serenity and Tranquility:
Egremni Beach offers the ideal environment to find peace and serenity. Since it isn't as easily accessible as some of its fellow Greek beaches, its tranquil environment remains relatively untouched by tourists. Egremni is an ideal spot to connect with yourself through meditation or find inner Zen.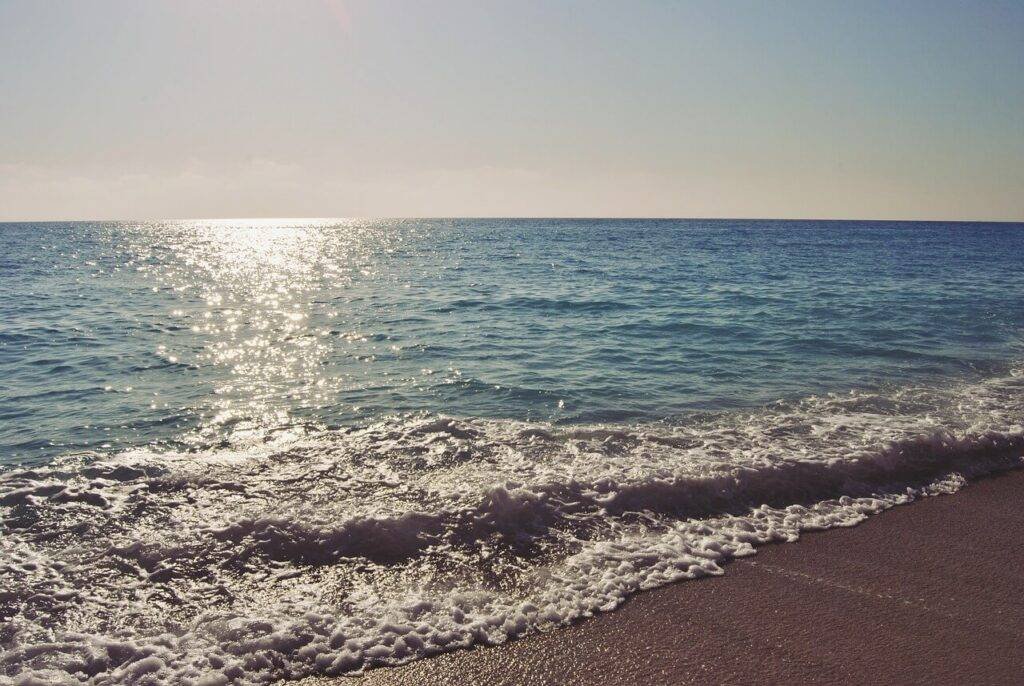 Nearby Attractions:
Although Egremni Beach is an incredible experience, other equally amazing sites nearby are worth discovering.
Porto Katsiki Beach:
Porto Katsiki is known for its stunning beach closed to Egremni. It is famous for its white cliffs and turquoise waters and so close that a boat trip from Egremni can bring this breathtaking landscape up close!
Mylos Beach:
Tucked away from the crowds, Mylos Beach offers another hidden treasure nearby. With its tranquil emerald waters and pebble-lined shores, Mylos is an idyllic destination for an enjoyable beach day without too many people around to disturb it.
Cape Lefkatas:
For an interesting mixture of history and mythology, stop at Cape Lefkatas – home of Apollo's temple, where lovers would jump off from its peak as proof of their commitment.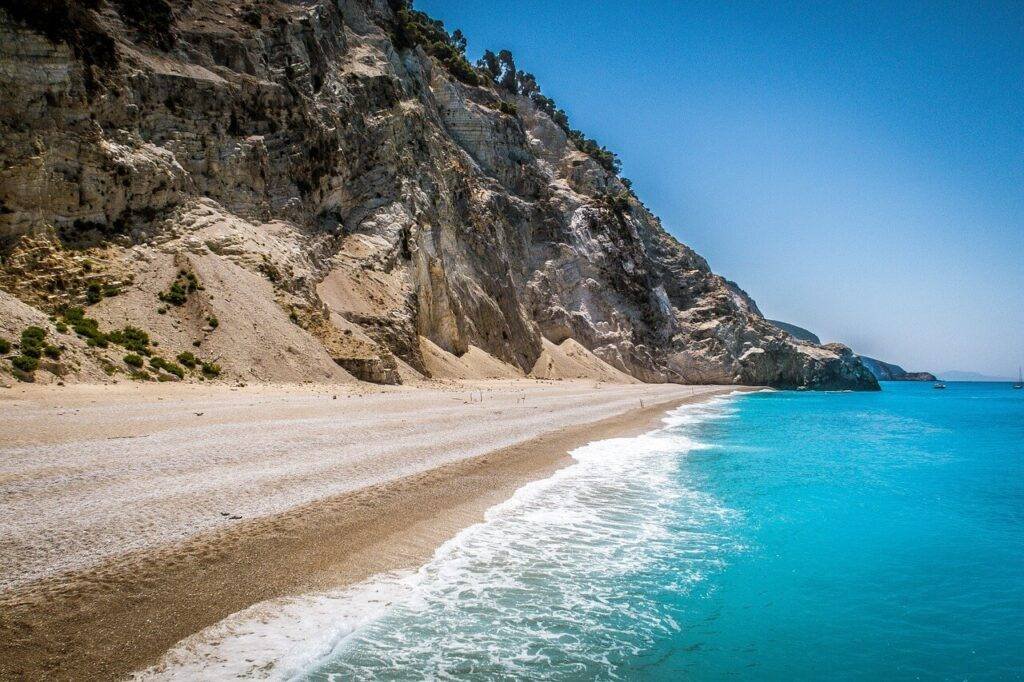 Best Time of Visit:
Which season and time frame would best allow you to experience Egremni Beach? Ultimately, that depends on your preferences.
Weather and Seasons:
The peak season for travel to beach runs from June to September, offering warm days with clear skies and pleasant sea temperatures. Remember to consider the allure of spring or early fall, as these seasons offer ideal conditions and fewer tourists.
Crowds and Off-Season Benefits:
While summer months offer lively atmospheres, some may prefer the peace and serenity of the off-season. Just be prepared for reduced amenities and possible business closures during this period.
What to Bring:
WASH SEA SALT (SPF30+) and sunscreen will be essential! Additionally, be sure to pack swimwear, towels, and beach chairs. You'll spend hours sunbathing and swimming – along with snorkeling gear in case there's time for exploring under the sea. Please carry enough cash card is not accepted everywhere as payment for services or activities offered here.
Where to Eat:
Egremni Beach offers limited dining options; therefore, it would be wise to pack a picnic or plan to dine in nearby villages.
Frequently Asked Questions
Q: Are There Water Sports at Egremni Beach?
A: Egremni Beach may not be known for water sports like some other Greek beaches, but visitors still enjoy swimming and snorkeling activities here.
Q: Is Egremni Beach accessible year-round?
A: Egremni Beach is best visited from May to September when weather conditions are ideal. During the winter months, access may be limited.
Q: Are there facilities like restrooms and eateries on the beach?
A: While the beach itself is pristine, amenities are limited. It's advisable to carry essentials and explore nearby establishments for facilities.
Q: Can I reach Egremni Beach by public transport?
A: Yes, buses and boats connect nearby towns to Egremni Beach. Check schedules in advance for a smooth journey.
Q: Are there accommodations near Egremni Beach?
A: Accommodations are available in nearby towns like Athani and Vasiliki. Booking in advance is recommended during peak seasons.
Q: Are the cliffs suitable for hiking for all skill levels?
A: While some paths are suitable for beginners, others require a moderate fitness level. Choose trails that align with your hiking expertise.
Q: Are there restrictions on water sports at Egremni Beach?
A: There are no strict restrictions, but it's advisable to follow safety guidelines provided by rental services for a secure water sports experience.
Conclusion:
Egremni Beach offers a tranquil getaway that's well worth the journey, featuring crystal-clear waters and golden sand that provide an idyllic setting. From exploring nearby attractions to basking under the sun or taking a leap off Cape Lefkatas, Egremni Beach promises an experience worth remembering! Now its the time for you to pack your bags and set out on an adventure as you have all of the information about how to reach there and what to see. Enjoy every moment at Egremni Beach and may all the Greek gods bless your journey!
Please read our blog on Journey to Cape Drastis: Unveiling Nature's Hidden Gem
Thank you for reading our blog till the end.