Myrtos Beach: Where Turquoise Water and Sunshine Meet
Join me and my fellow adventurers as we go on an extraordinary journey! Myrtos Beach is located in Pylaros, which is in Kefalonia Island's north-western part, in Greece's Ionian Sea. Buckle up because we're about to start an exhilarating sun-filled journey filled with stunning vistas, salty air, and maybe even some humor along the way! Grab your shades, apply sunscreen liberally, and let's kickstart this beach party!
Location:
The beach is situated between the feet of two mountains, Agia Dynati and Kalon Oros, adding to its unique and visually striking setting.
Accessibility:
Myrtos Beach is easily accessible from major population centers on Kefalonia island by car, making it an ideal location for travelers.
How to Go:
Myrtos Beach lies approximately 30 kilometers northeast of Argostoli, Kefalonia's largest city. It can easily be accessed by car from various parts of the island.
Pro Tip:
Pick up some pebbles, close your eyes and imagine yourself to be an ancient Greek philosopher contemplating the mysteries of existence.
Amenities
Myrtos Beach offers amenities such as umbrellas, showers, changing rooms, and lifeguards to make it an enjoyable beachgoer experience. The Myrtos Gulf stretches out in front of it creating a spectacular contrast with the landscape – often ranking among Greece and international standards as a result. Visitors flock from far and wide.
Why is Myrtos Beach famous?
Breathtaking Beauty:
Myrtos Beach is renowned for its stunning natural beauty. It features turquoise waters, powdery white sand, and dramatic cliffs that create a picturesque and awe-inspiring landscape.
Imagine strolling along Myrtos Beach and being taken aback by its breathtaking beauty – as though created by Mother Nature herself! From its sparkling white pebbles that seem to shine under the sun to the mesmerizing shade of blue that could make even Smurf jealous, Myrtos Beach will leave an impressionable mark in your heart and mind. Its breezy charm is undeniable! It can turn any frown upside-down!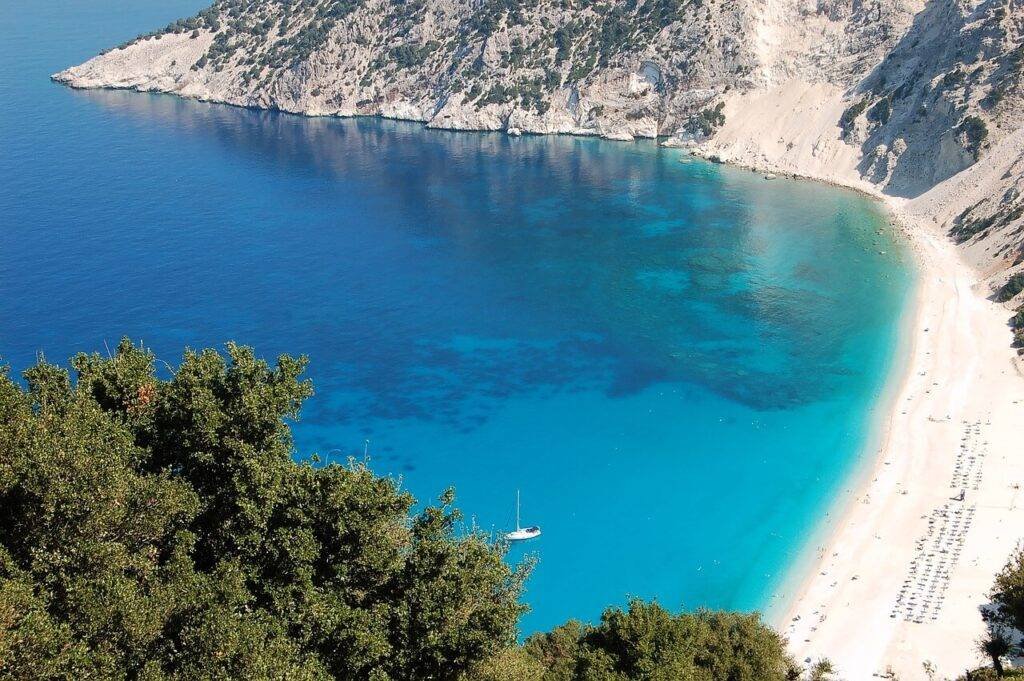 Film and Media:
The beach has been featured in various movies, TV shows, promotional materials and promotional videos which has contributed significantly to its growing popularity and recognition.
Cultural Significance:
The beach is part of the cultural and natural heritage of its region, lending it great significance in both local and national contexts.
Photographic Appeal:
Myrtos Beach's scenic appeal has made it a favorite subject for photographers and travelers looking to capture its beauty, leading many pictures. Images of Myrtos Beach are being shared online.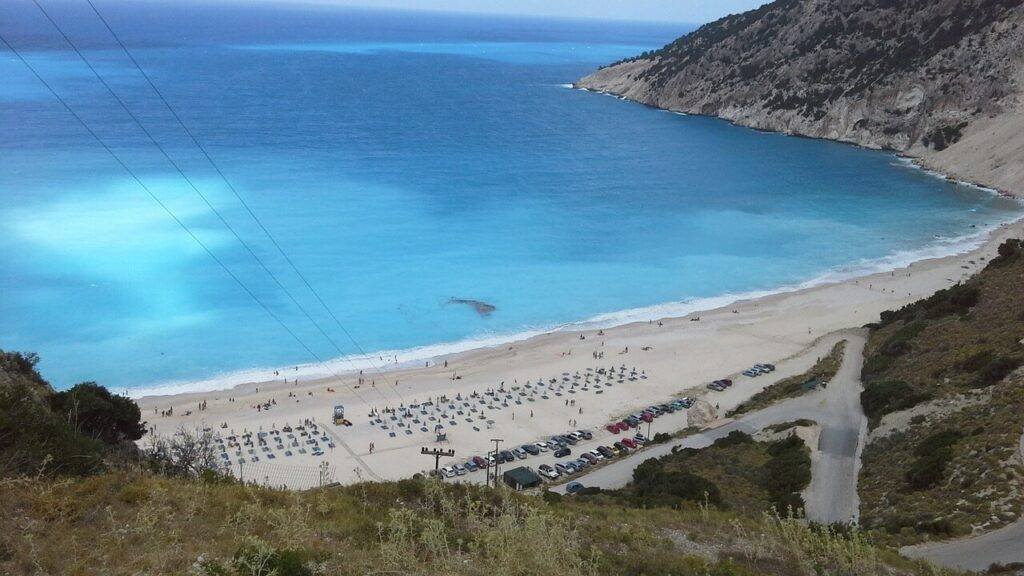 Attractions:
Sun, Sand and Chuckles
Now, let's talk pebbles. While you might think "Pebbles? Really?," hear me out: these pebbles act like nature's massage balls for your feet, offering free foot spa treatment as you walk along the shoreline. And who knows? Beachcombers might just find one of the coolest-looking pebbles ever; who knows, maybe even an MVP (Most Valuable Pebble)!
Cliffs, Views and Instagram-Approved Photos
Let's talk cliffs for a second: these breathtaking structures stand tall and proud as beach bodyguards, keeping an eye out over its shores and offering stunning panorama views. Upon seeing these beauties you may feel transported into an action movie: think James Bond sipping a cocktail while gazing upon such stunning sights; with a camera handy be prepared for an "Instagram fever" episode where envy-inducing photos flood your feed!
Dive Right In! The Water's Perfect!
Kefalonia's waters offer something special – an inviting natural pool where visitors of all levels of swimming skill can find peace. Doggy paddling your way to bliss, seasoned swimmers or not, this water is your playground! And who knows, maybe you'll even spot some cute aquatic creatures swimming alongside you – don't challenge them to a race, they have been training their whole lives!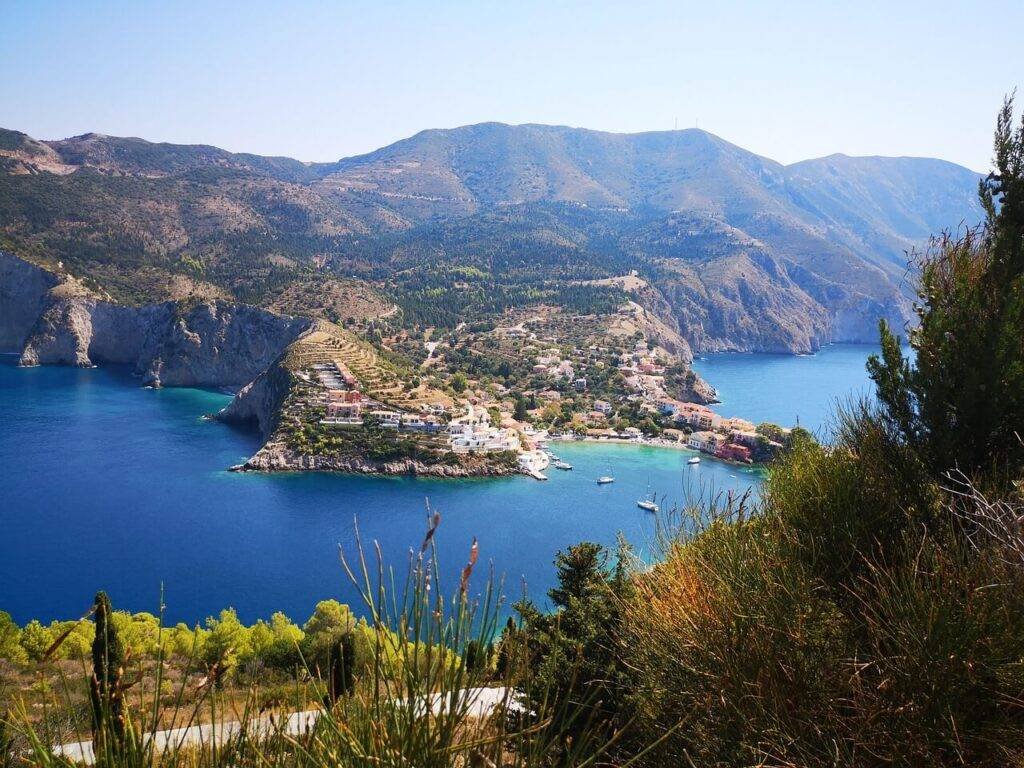 Mythological Musings and Local Legends
Now let's add some mystery into the mix. Legend has it that Myrtos Beach was formed by gods gathered together for a beach party: Poseidon brought waves, Zeus brought sun, and Athena provided skipping pebbles – this may or may not be true; locals often spin tales of ancient love stories and magical creatures, making one wonder if you have truly entered an alternative reality!
Beach-Style Dining
Your time in the sun and sand can build up an appetite, but Myrtos Beach has you covered if that happens to be. Beachside tavernas offer delicious Greek fare like souvlaki, tzatziki and all sorts of delectable bites sure to have you dancing a happy dance on Myrtos' sandy shores!
Hungry Humor:
A delicious gyro is like having an incredible flavor party right in your mouth while gazing upon the waves, so save some for seagulls who might come around asking to trade snacks with you!
Interesting Fact:
Rumor has it that the cliffs are practicing their Baywatch slow-motion runs to be prepared in case it comes time.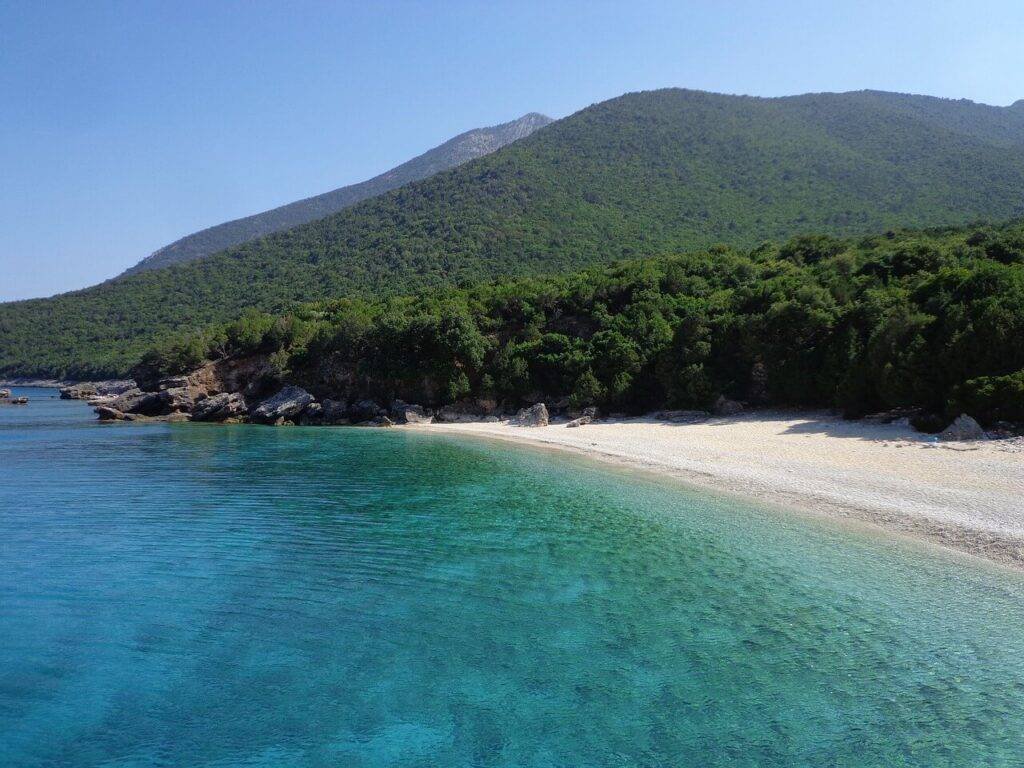 Frequently Asked Questions
Q. What is the best time to visit?
A. Myrtos offers an especially welcoming idyllic environment from May to October when swimming conditions are most inviting.
Q. Is Myrtos Beach worth visiting?
A. Myrtos Beach in Kefalonia, Greece, is worth experiencing for itself alone! Its stunning scenery and crystal-clear waters of the Ionian Sea make it a must-visit location. Plus, with white pebbles and turquoise waters to entice beach-goers. Don't miss this incredible experience of one of Greece's iconic and beautiful locations!
Q. How to get to Myrtos Beach from Argostoli?
A. To reach Myrtos Beach from Argostoli, follow the road northward for a scenic drive through Kefalonia's picturesque landscape.
Close Out and Say Good-Bye
Unfortunately, all good things must come to an end and Myrtos Beach adventure must come to a close. Don't fret though; your memories and pebble collection will stay with you always; when packing up and leaving Myrtos Beach behind remember that Myrtos will always be here, waiting with open arms (and pebbles!).
Are you craving more travel tales and tips? Check out our list of destination in Kefalonia 
Please visit our Blog on The Best 7 Beaches in Aegina