Costa del Sol Getaway: Playa de Burriana's Delights
Introduction
Welcome to Playa de Burriana, an unspoiled treasure on Spain's Costa del Sol. In this article, we'll go on a journey to explore this enchanting beach, unveiling directions, activities, and local insights that will etch your visit in your memory forever. So, don your sun hat, and let's begin our adventure!
How to Reach Playa de Burriana
Reaching this beach haven is a straightforward endeavor. Arrive at Malaga Airport, and from there, it's a leisurely one-hour drive to Playa de Burriana. Alternatively, if you favor public transportation, catch a bus from Malaga to Nerja, the picturesque town cradling Playa de Burriana. Once in Nerja, a stroll along the scenic coastal esplanade will usher you into this sun-drenched sanctuary.
Nearby Attractions
Beyond the spotless beach, an array of hidden gems awaits:
– Balcon de Europa:
This vantage point presents awe-inspiring panoramic vistas of the Mediterranean, rendering it an essential locale for a romantic twilight promenade.
– Exploring the township of Nerja:
Traverse the historical quarter of Nerja, with its winding alleyways, whitewashed structures, and delightful plazas. Pay attention to a visit to the renowned Balcon de Europa, a remarkable vantage point offering sweeping views of the Mediterranean.
– Nerja Caves:
A natural marvel, these caverns exhibit remarkable formations. Go on a brief drive to partake in their otherworldly splendor.
– Eagle Aqueduct:
A magnificent aqueduct providing exceptional photographic prospects.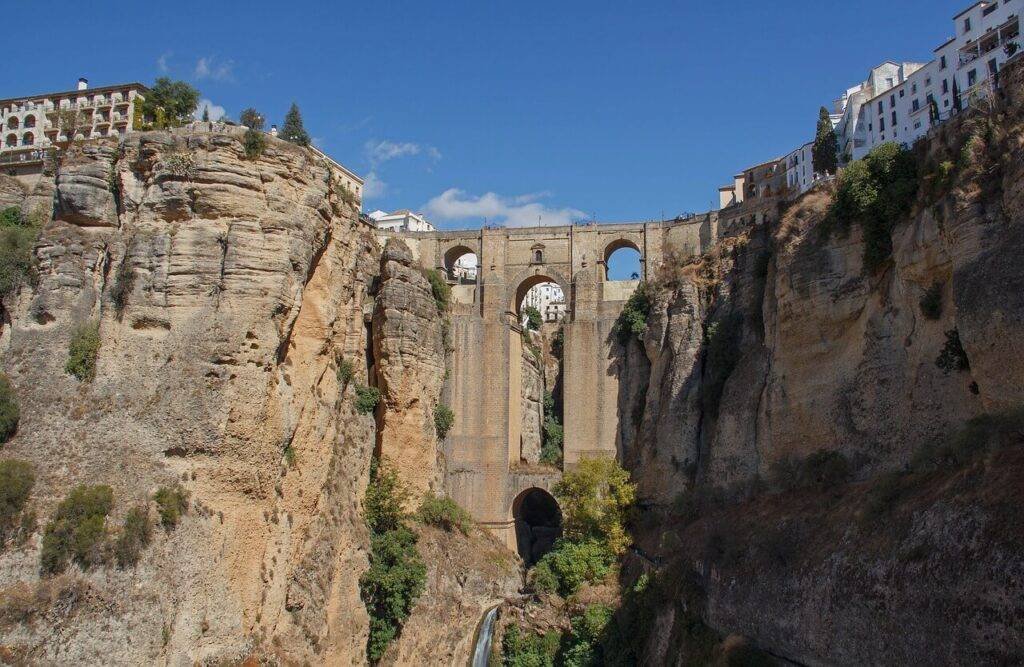 – Sierras de Tejeda, Almijara, and Alhama Natural Park:
For lovers of nature, this preserve offers hiking paths, wildlife observation, and awe-inspiring panoramas.
– Frigiliana:
This charming alabaster-hued village lies just a stone's throw away, characterized by its narrow streets and genuine Andalusian allure.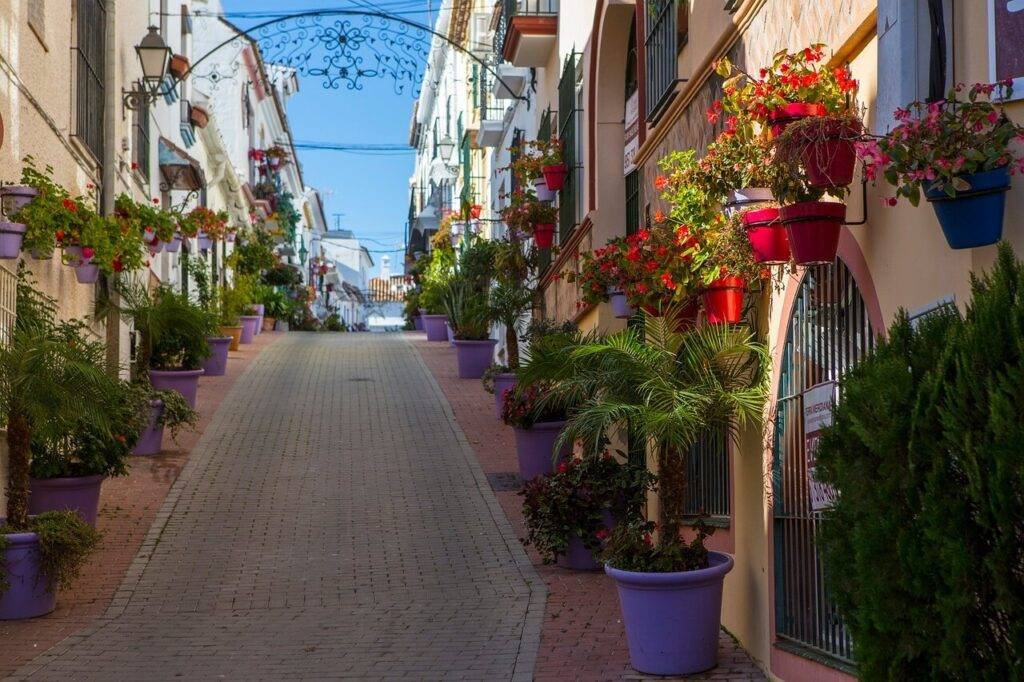 Exciting Pursuits on the Shore
Playa de Burriana extends far beyond mere idleness; it offers a universe of recreation:
– Aquatic Adventures: In search of exhilaration? Experiment with jet skiing, paddleboarding, or kayaking to infuse a dash of exhilaration into your beach day.
– Beach Volleyball: Partake in the games occurring on the coast or convene your assembly for a sandy showdown.
– Basking in the Sun and Observing People: Naturally, there exists the classic choice – simply reclining on your beach blanket, absorbing the sun's rays, and observing the world's kaleidoscope.
– Seaside Trekking: If you are an enthusiast of nature, you are in for a treat. The cliffs encircling Playa de Burriana offer exceptional coastal hiking opportunities. The panoramas are awe-inspiring, and they offer a superb avenue to investigate the indigenous flora and fauna.
– Family-Centric Amusement: Families with youngsters will discover Playa de Burriana to be an outstanding destination. It boasts playgrounds, beachfront gelato stands, and shallow waters perfect for the little ones to frolic securely.
– Unwinding and Health: Unwind and rejuvenate at one of the beachfront wellness spas or yoga studios. Unwinding and health constitute indispensable components of the Playa de Burriana experience.
Best Time to Visit
The allure of Playa de Burriana gleams throughout the calendar, yet diverse seasons yield distinctive experiences:
– Late Spring to Early Autumn: This time frame proffers optimal weather, reduced crowds, and cost-effective accommodations.
– Summer: The zenith season, idyllic for devotees of bustling beach scenes and lively evenings, though anticipate an augmented influx of tourists and elevated expenses.
Local Festivals and Events
Immerse yourself in the indigenous culture by synchronizing your visit with these dynamic events:
– Feria de Nerja (October): A week-long fete showcasing Andalusian customs, replete with flamenco, processions, and delectable gastronomy.
– Nerja Carnival (February): A vibrant extravaganza brimming with costumes, parades, and street soirées.
– San Isidro (May): This rural celebration rejoices with horse-drawn carriages, melodies, and exuberant dances.
Insider Tips for an Unforgettable Journey
Here are some indigenous insights to amplify your Playa de Burriana journey:
– Savor the Paella: While in Spain, take the opportunity to relish paella, particularly at one of the beachfront restaurants.
– Early Morning Serenity: For a genuinely serene beach experience, make an early morning visit and partake in a tranquil shoreline walk.
– Fundamental Spanish Expressions: While numerous locals converse in English, possessing a repertoire of fundamental Spanish expressions can serve as an icebreaker and manifest respect for the native culture.
– Preservation of Accommodations: Especially during peak times, making prior reservations for lodging is a reasonable tactic to secure your preferred lodgings.
Satisfy Your Cravings at the Market
Nerja's bustling weekly markets are an inviting chance to embrace the local culture and procure mementos. The Tuesday market, affectionately dubbed "El Mercadillo," offers fresh produce, handcrafted artisanal goods, and a vibrant ambiance, rendering it an indispensable stop during your vacation.
Sample Travel Itinerary
Consider this paradigmatic itinerary to optimize your time at Playa de Burriana:
– Day 1: Arrive and settle into your Playa de Burriana accommodations. Delight in a leisurely beachside promenade and an enchanting beachfront repast.
– Day 2: Explore Balcon de Europa for awe-inspiring panoramas and pay a visit to the Nerja Caves in the afternoon.
– Day 3: Head to the natural preserve for a day of trekking or simply savoring the natural splendor.
– Day 4: Revel in a serene day at the beach, partaking in water sports and sunbathing.
– Day 5: Explore neighboring attractions, encompassing the Eagle Aqueduct and the picturesque hamlet of Frigiliana.
– Day 6: Go on a day tour to Malaga for a taste of urban living, explore museums, and dine at local eateries.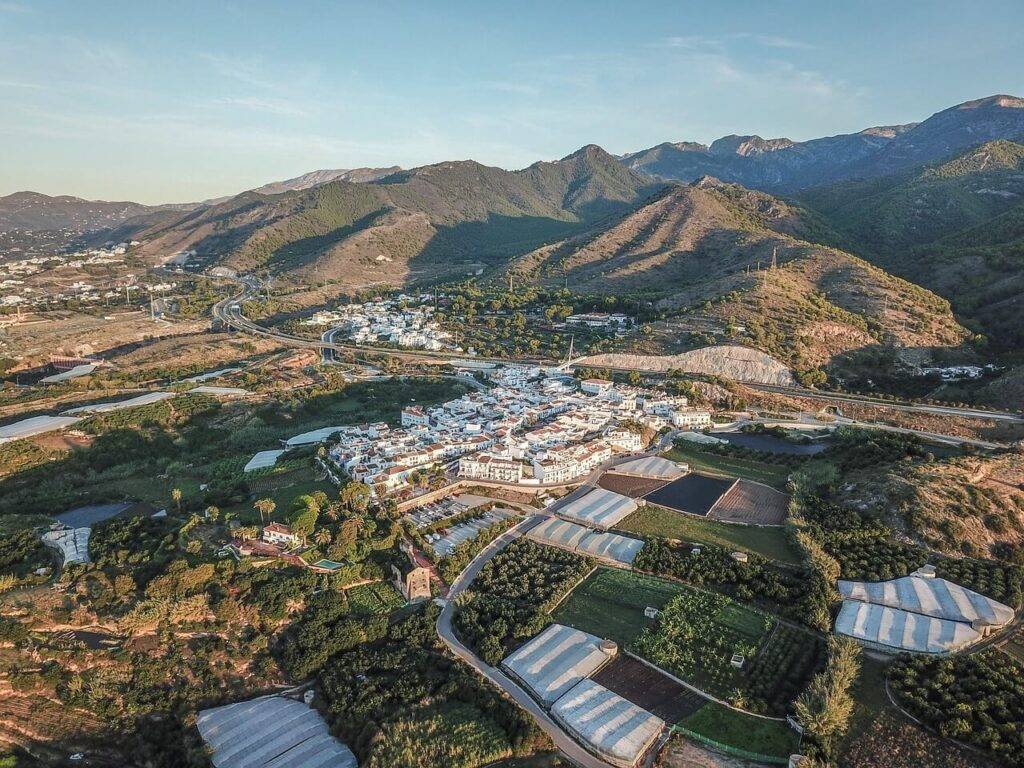 FAQs to Equip You for Your Journey
Q:Is it secure to swim at Playa de Burriana?
A: Absolutely. Vigilant lifeguards attend the beach, and the waters are generally peaceful and secure for swimming.
Q: What characterizes the local gastronomy?
A: Prepare your taste buds for a banquet! Relish fresh seafood, tantalizing tapas, and, naturally, the iconic paella.
Q: Are credit cards accepted?
A: Yes, most establishments accommodate credit cards, though it is advisable to carry some cash for minor acquisitions.
Q: When is the optimal period to explore Playa de Burriana?
A: The prime period to visit spans from June to September, bestowing warm weather and impeccable beach conditions.
Q: Are there accommodations in close proximity to Playa de Burriana?
A: Certainly, Nerja offers an array of hotels and rental residences within walking distance of the beach.
Q: Is Playa de Burriana amicable to families with children?
A: Undoubtedly, the beach is family-friendly, boasting shallow waters, playgrounds, and children's activities.
Q: Can one find vegan or vegetarian fare in Nerja?
A: Indeed, Nerja houses restaurants and cafes that cater to dietary inclinations, encompassing vegan and vegetarian alternatives.
Q: Which dishes are essential to sample in Nerja?
A: Pay attention to the paella, grilled sardines, and regional seafood specialties.
Q: What is the most efficient mode of travel from Malaga to Playa de Burriana?
A: Traveling from Malaga to Nerja can be accomplished via bus, taxi, or rental vehicle, entailing a brief 45-minute journey from Malaga Airport.
Conclusion
Playa de Burriana stands as a coastal Eden where the sunshine, sands, and smiles never falter. Whether your yearning is for excitement or a peaceful retreat, this destination encompasses it all. Thus, pack your luggage, infuse a sense of adventure, and prepare to succumb to the irresistible charisma of Playa de Burriana. We trust that this article has roused you to set out on your very own Spanish beach escapade! Feel free to adapt, enlarge, or tailor the content to suit your unique requirements. Bon voyage!