Jewel of Halkidiki: Your Guide to Possidi Beach's Hidden Charms and Adventures
Activities
Possidi Beach provides activities for every traveler. Adventure seekers, nature enthusiasts, or those simply looking for relaxation will all find something enjoyable here. Here are just some of the top activities at Possidi Beach:
Swimming and Sunbathing:
Possidi Beach's crystal-clear waters and sandy shores make it the ideal location for both swimming and sunbathing. Take in some sun on its soft golden sands before taking refreshing dips into the Aegean Sea to beat the heat!
Water Sports:
For thrill-seekers looking for something exciting and adrenaline pumping, Possidi Beach offers an abundance of aquatic adventures. Enjoy jet skiing, windsurfing, kayaking, paddleboarding and banana boat rides at this pristine beach's calm waters – offering safe yet fun environments for water sport enthusiasts of all levels.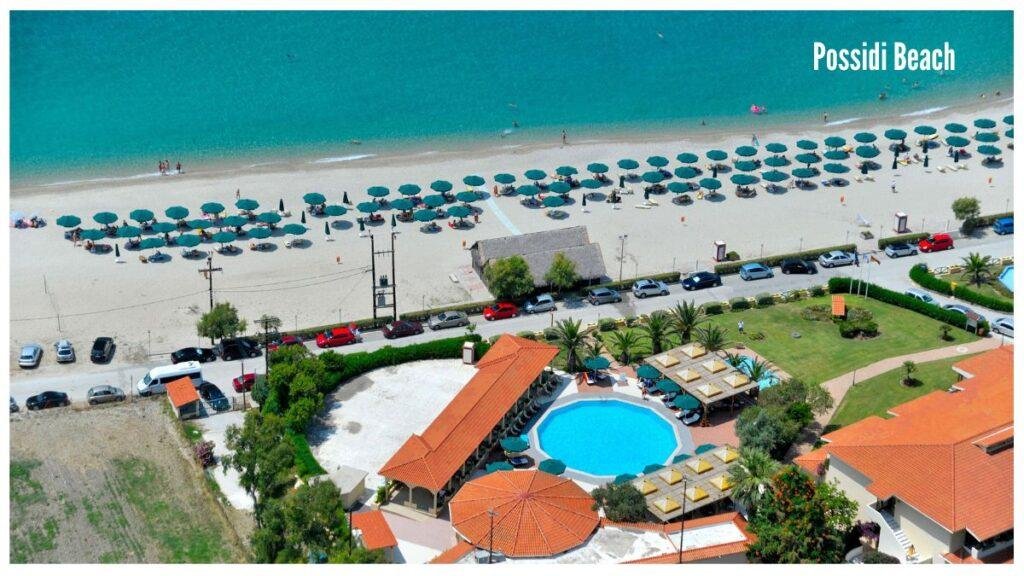 Snorkeling and Diving:
Discover Possidi Beach's underwater world through snorkeling or scuba diving, thanks to its clear waters which offer excellent visibility. Here, you will encounter an abundance of marine life such as colorful fish and fascinating rock formations that await discovery!
Hiking and Nature Walks:
The pine forests and coastal trails surrounding us offer numerous hiking and nature walk opportunities, offering breathtaking sights of seascapes and coastlines along the way. Step through fragrant pine-scented woods as you experience its stunning beauty or take in breathtaking sea and coastline views on coastal hikes.
Bird Watching:
Possidi Beach is an ideal spot for bird watchers during spring and autumn migration periods, when rare and migratory species visit to add an enriching experience for nature lovers and bird enthusiasts. Keep an eye out for rare migratory species visiting to make sure not to miss anything during your adventure!
Sunset Watching:
Witnessing an impressive Aegean Sea sunset at Possidi Beach is an unmissable activity. As the sun sinks below the horizon, its brilliant hues paint an unforgettable and romantic scene ablaze with orange and pink hues that paints an unforgettable canvas for sunset viewing.
Photography:
Possidi Beach provides photographers with ample photographic inspiration. Take pictures of its mesmerizing landscapes, breathtaking sunsets, and vibrant contrast between seawater and its green surroundings.
Beach Volleyball:
Possidi Beach has many volleyball courts set up so visitors can enjoy a friendly game of beach volleyball with family and friends.
Discover Possidi Village:
Enjoy a stroll through charming Possidi and experience its charming streets, traditional architecture, and local shops for an insight into authentic Greek lifestyle and hospitality.
Day Trips:
Use Possidi Beach as your home base when exploring other attractions in Halkidiki. Visit nearby villages, archaeological sites, and the scenic Siviri amphitheater for cultural enrichment.
Beachfront Dining:
Treat yourself to delectable Greek cuisine at beachfront tavernas and restaurants. Savour fresh seafood dishes, traditional Greek mezes and regional specialities while listening to the soothing sound of waves lapping against the shoreline.
Boat Tours:
Join a boat tour around Possidi Beach and its nearby islands to experience their stunning coastlines, swimming spots, snorkeling opportunities, hidden coves, and sea caves. These excursions often include swimming stops for swimming or snorkeling.
Possidi Beach guarantees an amazing experience, no matter your personal tastes or interests. Offering activities suitable for adventurers or relaxation alike, Possidi Beach in Halkidiki provides something special. Pack up and make this unforgettable vacation part of your plans today; embark on an incredible adventure at Possidi Beach.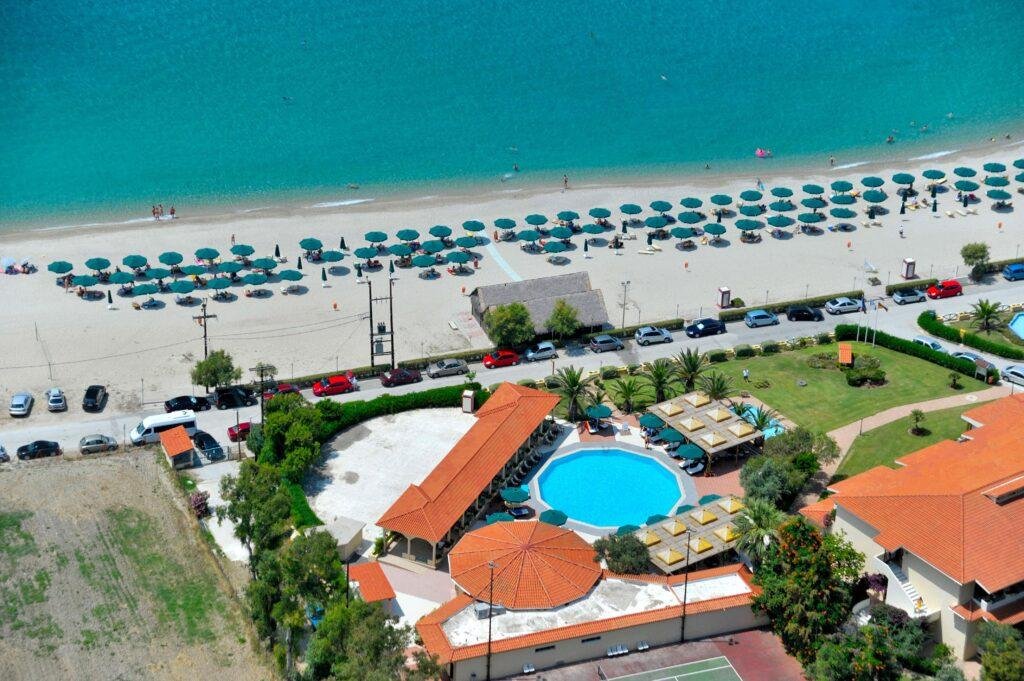 Best time to Visit Possidi Beach
Late Spring (May-June): Late spring is an ideal time to visit Possidi Beach as nature begins its awakening process and lush pine forests surrounding it create a delightful, relaxing ambiance. Furthermore, swimming conditions have improved, offering water sports enthusiasts ample opportunity for activities of their choice and making for more peaceful and relaxed visits than peak summer months.
Summer (July-August): Possidi Beach experiences its peak season during this period. With warm and sunny conditions ideal for sunbathing and swimming in the Aegean Sea, visitors flock to Possidi Beach in July and August in search of a memorable beach experience. While it may become busier during these months, all facilities and services become fully operational, creating an energetic environment on the beach itself.
Early Autumn (September): September is considered to be a bridge between summer and late spring, providing the perfect compromise. Weather remains warm and pleasant, allowing beachgoers to take advantage of warmer waters without the intense summer heat. Tourist numbers also begin to decrease gradually allowing more tranquil beach days as well as exploring local attractions without too many crowds present.
Keep in mind that Greece typically enjoys pleasant and sunny weather; however, it's essential to consult a specific weather forecast on the dates of your planned visit. While summer months offer high temperatures and lively vibes, shoulder seasons tend to offer more balanced experiences with fewer tourists and pleasant conditions.
Possidi Beach can offer visitors of all stripes an unforgettable experience no matter when you decide to visit. From lively summer festivities with various activities to more tranquil late spring/early autumn strolls through nature – Possidi Beach never ceases to dazzle with its beauty and charm no matter when or why visitors choose to come visit!
Please read our comprehensive article on Possidi Beach
and Gjipe Beach
You can also follow Aktis Guide for more information
Thank you for reading the blog till the end.